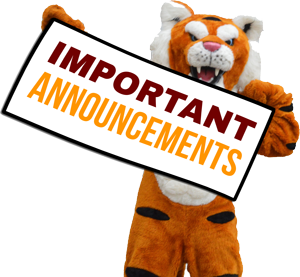 Announcements
HHS - Rox Bicknase
Wednesday, September 05, 2018
The Veterans Day Program will
The ASVAB test is for any student considering joining the military. The ASVAB does not sign you up for the military but it is the test you will need to take to see if you can get in. The ASVAB test will be given on Oct. 19th from 8:00-11:00am. It is a free optional test for juniors and seniors. If you are interested in taking the ASVAB sign up with Mrs. Thelen.
The volunteer club is collecting donations for the Harrisburg Food Pantry. Please consider donating a non-perishable food item or hygiene item to the collection box in the main office or on the perch.
SENIORS: Need to Pay for College???
Be sure that you are periodically checking the counseling group under resources and then scholarships for constant updates. Just put on a link that's connected to 900 scholarships being given in SD only. New ones are constantly being posted as they come in. Keep checking to get the cash!!
SENIORS: If you are thinking of attending any form of schooling after high school you will have to fill out the FAFSA form. We are having a Financial Aid Night on Oct. 23rd at 6:00pm in the Little Theater to go over how to fill out this form. You and your parents should attend this informational session on how to fill out the FAFSA to get your financial aid to help pay for your schooling. Let your parents know about this session. If you have any questions, see Mrs. Thelen.
The Harrisburg High School National Honor Society is hosting the Veterans Day ceremony on November 12th in the High School Gymnasium at 9:00am. We would like to honor Veterans within the Harrisburg Community with a star in their honor. Please fill out the attached form, and we will make sure a star is made. Please have this done by October 31st. Any questions please contact Lisa Cardillo, Lisa.Cardillo@k12.sd.us
https://goo.gl/forms/C63HuZVYGOgOm4382
Interested in taking College Algebra? There are still spots available for next semester!! This dual credit course is taught at Harrisburg High School by a college professor. Cost for the course is $145. The course is worth 3 college credits and 1 full High School Math credit. See a counselor if interested!
YEARBOOKS....please stop by C125 and pick up your 2017-18 book. If you want one they are $60.00.
2018-19 books are on sale and the price goes up next week. All families should have recieved an email. If not, go to Jostens.com and get one ordered for 49.00
SENIORS: Here is your OCTOBER reminder. Senior pictures are due to Mrs. Kruggel's email box before you leave for Christmas break. Please put SENIOR19 in the subject line and submit a vertical pose.